Obvious things first, it's cheap! You will be saving so much money by not having to hire a venue, as well as the fact that it will be an intimate affair as it will be in your home, which is the most personal place that you can get. If your garden is too small, have a think about some of your family or friends that may have larger gardens and ask them if they would be ok with hosting your wedding.
Unless you are completely certain that it isn't going to rain I would definitely invest in hiring a gazebo or a marquee. This website is nationwide, it isn't too expensive and you can also hire tables and chairs from them, which isn't bad at all!http://www.mmhire.com/
Don't forget to get a registrar or priest to do the vows.
Catering is completely dependant upon how much of a DIY stress you want to put on yourself. You could get someone to bring afternoon tea and keep it as a light garden party theme. There are also lots of brilliant little companies that deliver afternoon tea now a days as well which is brilliant. Here are a few around the country:
Another great idea would be a BBQ or a hog roast. These are a few companies that look pretty good and cheap:
If this isn't for you, stay with the option of getting a caterer in and having silver service.
Picnic basket can be delivered and put in the middle of each table, everyone can help themselves to as much as they want that way. You could get sandwich platters from Sainsburys, Marks and Spencers or Costco and get the bar/waiting staff to package them.
A highlight of having the meal at home is that alcohol will obviously be so much cheaper than an open bar. You could always go on Gumtree and do an add for some Bar Staff for the whole day for probably a reasonable price if you don't know anyone that isn't going to the wedding that could do it for you. 
It's personal choice as to what kind of flowers that you would like to have, but obviously you can grow your own flowers prior to the wedding and keep it as homegrown as possible and therefore save money by spending less on a florist. Or forget the florist altogether and DIY it up. I was thinking something like this:
The bouquet on the left could quite easily be collected, as these are traditional english flowers, so in theory we should all be able to grow them in our gardens! However I also like the idea of having daisies, because they are so delicate and wedding white with a splash of yellow that will add a nice brightness and spark to the day.
This website is a simple but very beautiful idea that would look great at a simple garden wedding: http://www.stylemepretty.com/2010/07/07/diy-wedding-bouquet/  It would work great with the daisies in particular.
This website has a great range of flowers that you can look at
For a dress choice I have a few suggested styles that won't drag in the mud and be absoltuely filthy. You can also have some great novelty photo shots with some wellies and your wedding dress. I would suggest something that won't drag, as it will be very muddy by the end of the night if you don't have anything over the grass. Bridesmaids dresses as well as everyone elses attire should be classy but relaxed, its a wedding but of course it is in a garden.
This dress is from http://whirlingturban.com/bridesmaid_dresses/index.html and I think would be the perfect style to remain classy, but appropriate for the garden.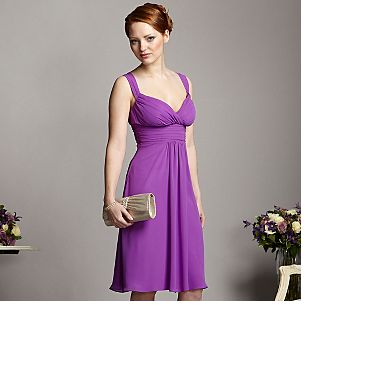 The dress on the right  is from Debenhams by debut, the floaty Goddess inspired nature is perfect for a Garden Wedding.
This website has some great lists that are both cheap, but majoritavely the right length for the wedding!
http://fiftieswedding.com/the-best-50s-inspired-bridesmaid-dresses-under-100/
Flowers can be used as accessories to keep a really chic, but natural look. Flower themed jewellery would also look really pretty.
Wilkinsons sell some lovely, basic, but very cheap ceramic pots which can be used as centrepieces. You can paint them, or decorate them in anyway that you'd like to. Maybe drape pearls around it and the flowers,  lace around the edge, or an idea that I really like is having cupcakes in the pots with the icing that looks like a rose. You would also be able to make the cupcakes yourself and learn to decorate the cakes like this.
If you are attempting to bake, ice and 'pot' the cupcakes youself make sure that you and your team of helpers (bridesmaids/mums/sisters/aunts) are well practiced and have the art down to a T to ensure you keep the class to the wedding.
This video shows you how to create the rose effect: www.youtube.com/watch?v=l4o6g29mh5Q
I also found these lovely cake versions with the same effect
 Once you have got the knack of the cupcakes I am sure that doing it on a larger scale would not be that much more difficult. It is a stunning idea though if you want to give it a try.
You can have ice cream cones, ice pops choc ices served in the place of dessert to go with the lovely floral cupcakes if you so chose. You could even get an ice cream bike or van, but that isn't neccassary, get the bar/ waiting staff to serve these. Here are some Ice Cream Vans/Bikes across the country that look great, it is extra expense though.
http://www.markesices.co.uk/index.html in London/ Kent and South East
http://www.mrwhippy.co.uk/index.html throughout Yorkshire
http://www.russellos.co.uk/ in Lancashire
http://icecreamtricycles.co.uk/ across the Southern parts of England, really good all inclusive price (£395 for 3 hours)
 http://www.icecreamtrike.co.uk/index.php based in Southern England, but expanding across the whole of England (from £395 for 4/5 hoours for 150 people)
Buckets and garden shaped bits and bobs for both favours and a centrepiece. As well as bubbles on the table.
Ribbon and streamers will go along way to compliment the natural beauty of the garden.